Tool's Maynard James Keenan: Metaphorically speaking, I just had a baby[1]Edit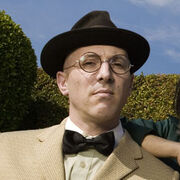 There are very few people with the mix of wit, intelligence, and eccentricity so honed as
Tool
frontman
Maynard James Keenan
. All will be on display this weekend as his bands (weirdo art project
Puscifer
plays too) will take over the River's Edge Festival at St. Paul's Harriet Island.
Over the course of a recent 20-minute conversation with Gimme Noise -- plenty of which is documented in this week's print edition here -- Keenan also gave a brief, delightfully vulgar update on new Tool material, and then settled into a frank discussion of how creating wine and Puscifer's latest album are tasks that go hand-in-hand.
CP: Various reports state you're going to be working with Tool in the studio this summer.
Maynard James Keenan: We've been writing for quite a while. I don't know. I wouldn't use the word "studio." It's our rehearsal space. We're just writing.
CP: Would it be safe to say that the writing process is continuing over the summer as well?
MK: Possibly. Yes. It would be kind of safe to say that the writing process is continuing.
CP: Anything else you'd like to say about new Tool material?
MK: I'm right in the middle of an album cycle. Metaphorically speaking, I just had a baby. You know, getting pregnant right now just isn't on the menu. My vagina is swollen and sore.
CP: You're, of course, referring to Puscifer's Conditions of My Parole?
M: Yeah. The new album. We're touring it. We're out there. We're selling records. We're doing this right now.
CP: So this material feels really fresh to you right now? I'm really fascinated by it.
MK: Thank you. (pauses) I think it's just, in a way. People have asked, when it comes to the wine-making, how I have many, many different blends. Not just like a house that does one Cabernet and a Chardonnay. I've got usually fifteen wines. And I've been asked how it is that I can keep those all separate. And I've related it to actually writing an album. Where at any given time, when you are writing an album, you have twelve to fifteen different stories all developing at the same time.
You have to kind of just turn one off to work on another. And in a way it compartmentalizes. There's gonna be a common thread throughout all that you're doing and expressing in that way, but each one is going to shine individually. And so, in a way, that's what I'm used to: 20-some years of creating 12 to 15 different stories in time.
So with the winemaking, having that many wines, I've already been trained to keep those separate. That's how the wines and Conditions of My Parole kind of come together. Kind of existing in a similar space. Everything, every story is different, but in some way related to the others.
Part 2: Maynard James Keenan on recruiting Dave Matthews fans and getting the Scissor Sisters drunk[2]Edit
"It's just a matter of waking up one day and putting on a different clown suit," says Maynard James Keenan about bringing both his avant-weirdo act Puscifer and metal titans Tool to the River's Edge Music Festival. "We're going to be right in the middle of a Puscifer tour, so that will be dialed in," he adds. "And the other band has been touring for 20 years."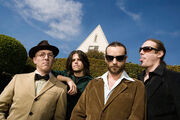 Although the diminuative baritone has fronted "the other band," one of the most successful ensembles in metal, for over two decades, it's actually his least-favorite subject. By forming a similar project called
A Perfect Circle
with Tool guitar tech
Billy Howerdel
, and establishing Puscifer — his at-times comedic, but always groove-oriented side band — Keenan has made it far easier to sidestep incessant, gaping-mouthed requests for updates on Tool's snail-paced studio work. ("The writing process is continuing," he gruffly offers, regarding the follow-up to 2006's
10,000 Days
.) It's an interviewer's relief that both APC and Puscifer (pronounced "pussy-fur") are legitimate bands, and he has channeled just as much creative energy into high-profile wine venture Merkin Vinyards.
During a call from Los Angeles, the Dionysian semi-recluse Keenan revealed to City Pages that having both Tool and Puscifer performances at this weekend's River's Edge fest on St. Paul's Harriet Island could be a once-in-a-lifetime fan experience. Plus, he imagines swapping bottles with co-headliner Dave Matthews, and speculates on which other performers will hopefully get drunk on his wine.
City Pages: After listening to Puscifer's 2011 album Conditions of My Parole, I was struck by "Green Valley" because you're talking about another river, the Verde in Arizona. What do you think the Mississippi River is going to bring out in you for these River's Edge performances?
Maynard James Keenan: Well, we're just going to bring out whatever it's going to bring out. Just hopefully it resonates with the people who are actually standing closer to the river. I wouldn't dare direct it. Just kind of let things happen. You can kinda hope, but if you hope too much then you manipulate the outcome.
CP: How do you like the atmosphere of festivals as a whole?
MK: Well, it's definitely a different experience. Just as the word "festival" suggests, it's festive. There's a lot more going on. A lot more eye candy. When you're doing your own show, you're kind of preaching to the choir. People are coming to you, for the most part. You're not going to get a lot of new people coming to see you, and the beauty of a festival is that a young band can have people come see them that normally wouldn't.
CP: You may have the opportunity to turn on a lot of young Dave Matthews Band fans at this event.
MK: That would be the hope.
CP: So this is actually the first time both Puscifer and Tool have played the same festival?
MK: Yes.
CP: Do have other opportunities to do this in the future?
MK: I wouldn't look for it. This is probably the only time.
CP: How does it feel to have the ability to switch between bands quickly?
MK: It can be exhausting, but it can also be inspiring. The last time I actually did that was in 1999 when the very first band on the main stage to play Coachella was A Perfect Circle, and the last band to play that weekend was Tool. We played at the same festival, but 36 hours apart.
CP: What do you think about that kind of duality? Obviously a lot of people who started as Tool fans have been attracted to your side projects, but Puscifer feels like a different state of mind.
MK: The danger is to look at it as a band, but it's not really a band. It's a multimedia project. It's all kinds of facets and angles and outlets for it. Understand it's a very flexible project. It's something that is happening now. And it's joined at the hip with the winery in a way.
CP: Are you interested in getting your wine out to the people at River's Edge?
MK: Not necessarily. It's a long story. Licensing permits and distribution. Because it's alcohol, it's a lot of junk. It's not just like shipping off baby dolls and lunchboxes. It's a lot more involved. If the wine is already there, and there's a distributor pouring wine, and they have wine in their warehouse? Great. If they don't? Don't bother.
CP: Will you be carrying some wine for yourself?
MK: I've heard rumors that Dave Matthews makes wine, but from what I understand, he actually has a winemaker. He owns vineyards and has a winemaker. I think somehow his family is related to making the wine or something. I don't know. That's why I want to get to the bottom of it. I'll probably bring a bottle along for him.
CP: I'm sure there would be plenty of wine magazines who would love to get that photo op.
MK: Yeah, and that's probably why it's not going to happen. Because if I exchange the wine, it's going to be something that's personal. I'm not much for photo ops.
References
Edit
Community content is available under
CC-BY-SA
unless otherwise noted.