Tool's Maynard James Keenan wants you to eat his Puscifer[1]Edit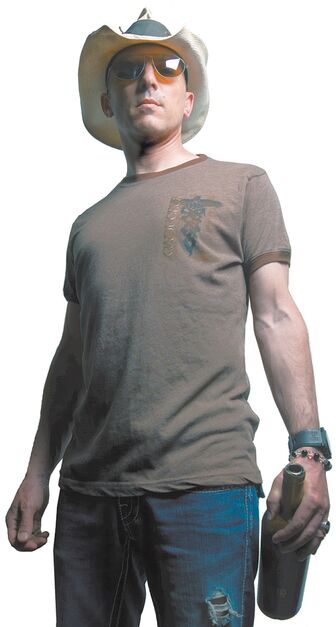 When
Puscifer
rolls through town in support of last year's
Conditions of My Parole
, the band's second album, they'll be playing some of
Maynard James Keenan's
best and most successful music. Not bad for a group that started out as a half-serious gag on the Mr. Show sketch comedy series.
Keenan is a man of many bands (Tool, A Perfect Circle, Puscifer) and a man of many talents (singing, songwriting, acting, comedy, wine-making). He attracts a lot of talent to Puscifer, whose dynamic stage shows and constantly shifting lineups reflect the multifarious vision he has for them.
Puscifer's live show is a catch-all of Keenan's passions, incorporating music with dramatic and comedic elements, traditional rock 'n' roll pyrotechnics, modern theatrical design, and even diverse elements like ambient sound and animation. It's a testament to his quality as a man who's never satisfied and who wants his shows to express everything he's got inside, one way or another.
"I've always wanted to be a fire engine," he told the Current. Is he working towards achieving that?
"I was last night, yeah."
MAYNARD JAMES KEENAN: The Rap Sheet
Edit
Tool:
MJK's first and most famous band. Founded in L.A. in 1990, on hiatus since 2008 but expected
to return with a new album later this year.
Ænima
and
Lateralus
are considered classics of their genre, whatever that is.
A Perfect Circle: MJK's alt-metal quasi-supergroup with members of Smashing Pumpkins and Nine Inch Nails. Released music off and on since 1999. A more bombastic outlet for Maynard's inner rock god.
Puscifer: MJK's endlessly morphing posse for his more avant-garde solo material. Never the same thing twice, but always worth listening to. Not so much a rock band as a sort of electrified metallic cabaret.
Caduceus Cellars: MJK's winery in the Verde Valley of Arizona. Produces a well-regarded line of wines, grown by Maynard himself at his Merkin Vineyards. Takes up most of his non-performing time; he schedules his musical endeavors for the off-season.
On his songwriting process: "Who a song is written for depends entirely on who I'm working with. If I'm sitting in a room with Adam Jones, it's a Tool song. If I'm in a room with Billy Howerdel, it's A Perfect Circle. It doesn't have to be an actual room. Sometimes it's a metaphorical room."
On who he'd like to work with: "Jimi Hendrix. Oh, did you want someone alive?"
References
Edit
Community content is available under
CC-BY-SA
unless otherwise noted.