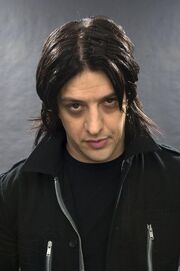 Jeordie Osbourne White
(born June 20, 1971), better known by his pseudonym
Twiggy Ramirez
(derived from Twiggy, a fashion icon, and Richard Ramirez, a convicted serial killer), is an American musician, who is best known for being the bassist and guitarist for long-time band, Marilyn Manson.
He was also the bassist for A Perfect Circle, and Nine Inch Nails (live only).
He is also the vocalist and multi-instrumentalist for Goon Moon. He left Marilyn Manson in 2002, but rejoined the band in 2008. He has been a principal songwriter for the band and has also contributed to some of the Desert Sessions recordings.
Community content is available under
CC-BY-SA
unless otherwise noted.