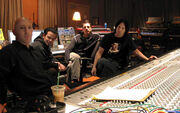 Tapeworm
is a defunct side project of Nine Inch Nails which existed in various forms from 1995 to roughly 2004. Tapeworm never released any recordings, but was frequently referenced in interviews. The band started as a side-project between Nine Inch Nails frontman Trent Reznor and live-band members Danny Lohner and Charlie Clouser. Through the years the group expanded and evolved numerous times to include artists such as
Maynard James Keenan
, Atticus Ross, and Alan Moulder, effectively turning the project into a supergroup. After many years of rumors and expected release dates, Reznor announced the end of the project in 2004.
Several songs in Puscifer's catalog date back or can be recognized as Tapeworm material. One such song, which has been confirmed, was the A Perfect Circle song "Passive", which was an updated version of the song "Vacant." Today it is the only known Tapeworm song that was lyrically constructed.
Speculation insist that the song "Potions" is also a Tapeworm outtake as it credits Reznor for lyrical work. The only confirmed time Keenan and Reznor worked together was during Tapeworm sessions.
Community content is available under
CC-BY-SA
unless otherwise noted.